EPF Balance check without having UAN number is the most used facility for regarding EPFO members, and many times it happens that people don't have the UAN number or they don't remember there UAN number…
Any person/employee who is a member of Employee provident fund organization can easily check his EPF balance and statement with or without UAN number in different ways, so let us check the various options available for EPFO member to use in order to check the available balance in the account without having the UAN number
Different Ways to Check EPF balance without UAN Number
By sending SMS
For availing this SMS service, the UAN for once should be registered with the EPFO office, and the SMS balance service can be used after that even if the person don't remember his EPF UAN number, but the employee needs to send the SMS in a particular format as mentioned to get EPF balance without UAN number.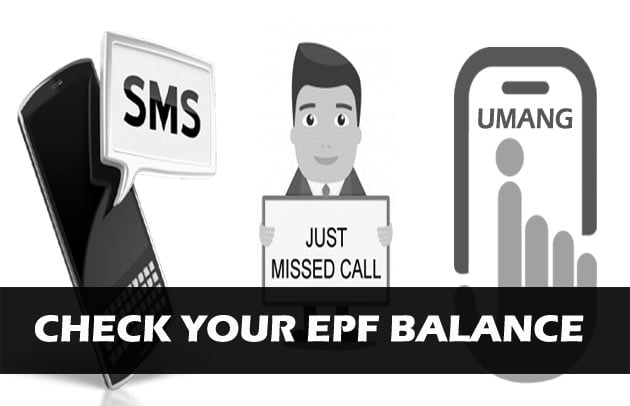 The person needs to share or send the message to 7738299899 in the following format
EPFPHO UAN ENG
where the last 3 digits denotes the first 3 letters of the language, where the SMS facility is also available in various languages English, Kannada, Malayalam, Gujarati, Hindi, Bengali, etc.
By giving a Missed Call
One can also get details of the EPF balance without UAN number by giving a missed call on the following number
011229014016
This facility can be used only if the mobile number is registered on the UAN portal, and the member of EPFO wants to use this facility is not required to remember his UAN number, it is just that the person should have his UAN number registered on the portal once and should have his KYC competed for the account.
Umang App
One can also use check the PF balance check without UAN number, and get the statement and use various other facilities through the Umang app, and this application is one of the latest initiatives under the digital campaign launched in 2018.
Umang app provides the flexibility to use various services on the go as well as one does not have to register again and again on the portal, and EPFO member can download the app through the google play store for the android as well as can download the app through the apple app store.
The Umang facility is an initiative of the government and was started to provide all the facilities and features related to the EPF account using the Umang App.
Once the user has installed the umang app, the user can simply select the EPPFO option form the home page, and after visiting the home page of the portal, the user can select the "Employee centric services option" and the EPF Universal account number, then the user will be sent the OTP on the registered mobile number and an OTP will be shared on the registered number.
Once the user logins through the app, the user may not be asked to login and provide the UAN number again the again while using umang app.
To use all the above services effectively to check EPF balance without UAN number in different ways one should have his KYC done and should have his mobile number, Aadhaar card number linked to the EPF unified portal, and this would help in using the portal for hassle free transactions.