Find BSNL employee designations related to non executive and officers as per the area of work profile involved with new BSNL designations hierarchy in the organization and nature of responsibility on each BSNL new designation available in SAP ERP portal…
The designation of BSNL employee plays a key role in deciding the type of emoluments and facilities that should be offered, and the assigned responsibilities. During the promotions, demotions, employee designation can change in all the records as per the existence.
Each new designation of the employee in Bharat Sanchar Nigam Limited must be unique and configured in BSNL ERP Portal with their duties and responsibilities on allotted side towards Administrative, Financial and Development side of the organization.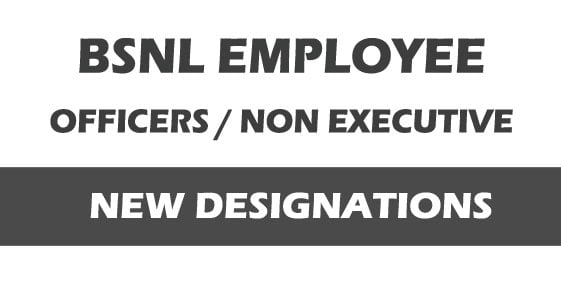 BSNL Officers Designations
The following is the total list of BSNL executives designation from top to bottom level working in field units and Corporate headquarters at New Delhi.
In Field Units
In Corporate Head Quarters
CEO (Chief Executive Officer) or CMD (Chief Managing Director)
Director
Chief General Manager

Principal General Manager / General Manager
Deputy General Manager(DGM)
Asst General Manager (AGM)
Chief Accounts Officer (CAO)
Divisional Engineer (DE)
Executive Engineer (EE)
Asst General Manager
Senior Sub Divisional Engineer
Sr. Accounts Officer
Sr. Manager
Sub Divisional Engineer
Accounts Officer
Manager

Junior Telecom Officer
Junior Accounts Officer
Deputy Manager
BSNL Non Executive Employee Designations
Below are the assigned cadres and BSNL employee designations towards Non executive level working in the field units of Bharat Sanchar Nigam Limited and you can find the roles and responsibilities of each employee on below links.
| Pay Scale | New Functional Designation of BSNL Non Executive Employee | Old Designation |
| --- | --- | --- |
| NE9 to NE12 | Junior Engineer (Telecom) | Draughtsman of Telecom |
| NE9 | Junior Engineer (JE) | TTA |
| NE11 and NE12 | Office Superintendent (OS) | STS/SSS |
| NE9 and NE10 | Asst Office Superintendent (AOS) | Telephone Supervisor / Section Supervisor |
| NE7 / NE8 | Senior Office Associate (SOA) | SR.TOA |
| | Office Associate (OA) | TOA |
| | Telecom Technician (TT) | Telecom Mechanic (TM_ |
| | Telecom Assistant | Regular Mazdoor (RM) |
In Non Executive cadre, the BSNL Draughtsman designation has been changed to JE(T) with effect from 15.01.2019, and we will update if any BSNL new designations against each cadre in the organization changed.