Claim medical reimbursement without health insurance for BSNL employees self or dependents now made easy with ESS ERP BSNL self service portal to submit and to check the status of medical claim reimbursement…
After launching of SAP netweaver portal login, BSNL employee can have a chance to submit all the outdoor medical claims in online for early processing of reimbursement of medical expenses incurred for hospitalization without physical medical forms.
For those BSNL employees and their dependents who added in BSNL ERP ESS login can directly submits their reimbursement claims and there is no requirement of old medical reimbursement form to claim the expenses incurred for hospitalization.

All the BSNL medical reimbursement claims will be processed as per the employee pay details only, if the claim exceeds the eligible amount, then the BSNL ERP portal doesn't allow the claim in ESS login only, Let's check the claiming process for new or rejected medical claims through BSNL ERP Portal at eportal.erp.bsnl.co.in.
Submit BSNL Outdoor Medical Claim in BSNL ERP ESS portal
Open your Google Chrome or Microsoft Edge browser and hit enter after entering the BSNL ESS portal website address eportal.erp.bsnl.co.in
Enter your BSNL ESS user id (ignoring first digit of your HR number) and password and click Log On
Click Employee Self Service and Claim
Press Outdoor Medical Claim in Medical Claims under Benefits and Payment
Select New Claim and click Start in next Pop Up
A new Annexure C will open for your to enter all the details by showing the eligible amount to claim in this financial year (in yellow color) by showing the employee salary details.

Select Patient name (Self or Dependent) from drop down menu
Enter Name of the Doctor and Name of Hospital and the below details in the respective fields (Click on + symbol to enter more than one item in the respective field)

Consultation
Diagnostics / Tests
Medicines
Appliances
Any Other
Health Check Up Scheme

Select the declaration to agree the above entered details
Click SAVE (Your consolidated amount will shown)
Submit.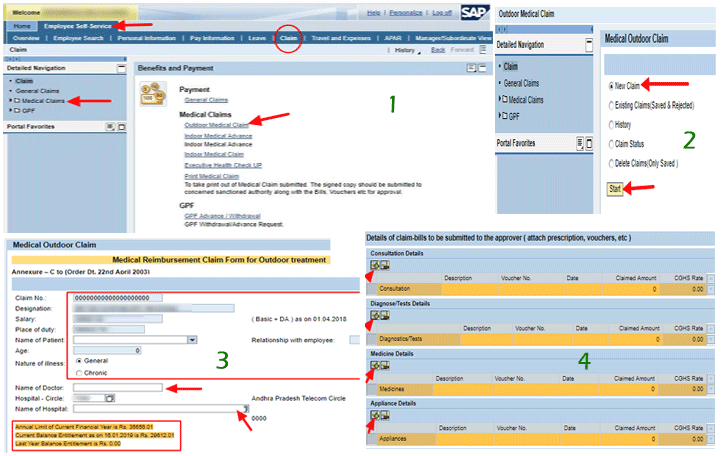 Go to Medical Claims
Select Print Medical Claim
Select Outdoor
Click on Reference Number and Select the same
Print (If not printed directly on your printer, it will downloaded to your downloads or ask your where to save)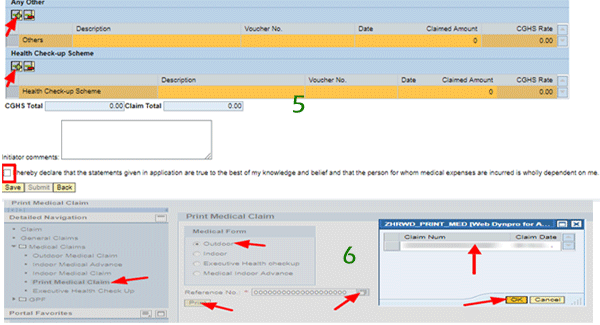 Even the process launched in online at ESS ERP BSNL, the employee has to enclose all the below mentioned requirements to concerned Accounts section along with Medical Reimbursement Claim form for Outdoor Treatment (Annexure C) for keen verification and for early processing of the claims of BSNL employee
BSNL MRS Claim Enclosures
BSNL employee Medical Card.
Printed BSNL Medical Reimbursement Claim Bill (Annexure C) with signature of the employee.
Doctor's OP and Bill Receipt.
Hospital Reports (Scanning / Tests) and bill paid receipt.
Medicines Bill (If Purchased) having GST number and authorized stamp.
All the above are mandatory to claim the reimbursement of medical expenses in outdoor pattern as per the eligibility of BSNL employee pay details, and apart from the above, if any reports available against the claim voucher amount shown in Annexure C of ESS ERP BSNL portal can also required to submit the photostat copies to avoid the rejection.
How to submit BSNL rejected medical reimbursement claims
In some situation employee BSNL reimbursement claims were rejected due to various reasons, In that situation, there is no requirement of submitting all the Mediclaim details again in BSNL ERP portal, just check the below process and submit your medical claim easily again in self service portal.
Follow the above process upto Outdoor Medical Claim
Select Existing Claims (Saved & Rejected)
Select Claim Number and Start
Click OK
Click SAVE and Submit
Go to Printing process and submit the old rejected claim with new date by submitting the required documents.

Any kind of BSNL medical reimbursement in manual or through BSNL ESS (employee self service) portal does not cover domiciliary hospitalization and not having any option to enter the same voucher details in BSNL ERP SAP netweaver portal login.