How to reset BSNL ERP login password on desktop or in mobile, how to unlock employee ESS IRJ portal login details if locked on eportal.erp.bsnl.co.in and the steps for BSNL ERP forgot password recovery from locked status…
There is a saying that when there is a more frequent change in login passwords, the more secure accounts will be, so it is the responsibility of every BSNL employee to change their BSNL ERP login password frequently towards security.
No separate portal is available for employees to change BSNL ERP login password or to unlock the services on the login page. So, if you want to access your BSNL Pay Scale details, personal information, and medical claims, just enter into the SAP Netweaver login portal and change or reset the ESS BSNL employee login password with the following simple process.
How to Reset BSNL ERP login password by Employee
Open your Google Chrome browser in Desktop or Mobile to login into eportal.erp.bsnl.co.in/irj/portal
Click on Reset Here available at SAP netweaver portal login page
A new Logon Help App page will open to enter the personal information
Enter your ERP Logon ID (your HR number by ignoring first digit)
Enter registered Email
Click Submit
Within one or two minutes, your new BSNL ERP password will sent to your registered email.
Open your email account and check the mail in Updates or Inbox folders.
Copy the new system generated BSNL ERP default password
Open your BSNL ERP IRJ portal and enter your user as your HR number and password as newly generated > Press Logon
A new page will open to enter your old and new password details
Paste your BSNL ERP default password in old password option.
Enter your new login password and Confirm password as same with combination of alphabet, numeric and special characters.
Click Change
How to reset BSNL ERP Locked Password
Due to multiple attempts in three variations, BSNL ERP SAP netweaver portal login page locked, and at that time, there is no option to employee for BSNL ERP password recovery or to reset the authentication failed password in locked SAP portal.
In this situation, BSNL employee must approach concerned ERP nodal officer of SSA for BSNL ERP password reset from locked status. After resetting the same from authorities, employee allows to change BSNL ERP default password again with new.
In the above two cases, you will immediately allowed to login to BSNL ERP Portal with new login credentials by changing the default password.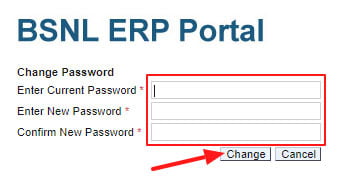 When ERP Login Password reset automatically
If an employee or the user of BSNL ERP portal attempts the login with wrong user id for 3 multiple attempts, then it will be locked automatically, but the same will release after 24 hours / next day for login to attempt for another 3 times. So the user have a chance to attempt the BSNL ERP login with incorrect password at 3 attempts everyday.
BSNL ERP Login password change frequency
To keep SAP ESS portal member login services more secure, any employee may change the BSNL ERP login password once every 30days and the same login password does not repeat for the last three changes.
For every thirty days, the BSNL ERP portal password change option will appear on your screen when you want to access ESS SAP Netweaver login page, and if any display error occurs, please configure your browser with BSNL ERP page settings to overcome the login page error.